Hero Comics asked G and I if we had any costumes for X-Men day
I think we can come up with something...
We went along with the recent story of when Deadpool decided he wanted to be an X-Man. Well it just so happens that there was a black haired, black catsuit-wearing character in tall black boots in this plot line... what was I to do? Say no?!
No, I said hell yea and ran out and bought some face paint
20 minutes later...
this is what happened.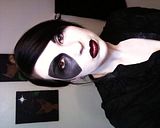 For the rest of the costume I'm going to re-purpose my boots and finger-less gloves I bought for Black Widow (she's still in progress, all I have right now are the boots and gloves for her ...) and my belt from Black Cat (G is going to cut me an "X" belt buckle that I can Velcro onto it). So now all I need to do is buy some actual black lipstick, fine tune my make-up skills, re-dye my hair, find a domino to turn into a necklace and I'm an X-man...!
Now for D.Pool, I'm going to try and find one of those Wolverine costume shirts and spray paint "D.Pool" on the back and G is going to cut himself one of those belt buckles and replace his Deadpool one (good thing it he attached it with Velcro the first time!)
It'll look similar to this, but we thought the costume Wolvie shirt would be great!
(and I don't think G would be happy about having to wear a 3rd pair of underwear...)
Coming up War machine progress, Black Widow, Angelus, Avatar: The Last Airbender (this may be my first, wait, no... second costume that's not a black catsuit!)
Also G and I are working on a proposal to do a costuming panel at Phoenix Comic Con next year! If anyone has any tips or ideas let me know...